Happy New Year!
Words cannot express how thankful I am for you. The compassion and love you and the World Help family showed in 2017 is truly incredible. So many people were in urgent need around the world, and you answered the call. You immediately responded when hurricanes struck, refugees faced a new crisis, or famine swept a nation.
In 2017, you provided help and hope to nearly 3.5 million people around the world.
This year you helped people in Uganda, Cuba, North Korea, Iraq, and many other countries.
You gave education to children in Uganda and rescued Guatemalan babies from the brink of death. You freed girls from the sex industry in Thailand and India, and you fed starving Honduran families. You also provided urgent medical care for Syrian refugees … and so much more.
All of this is because of you — thank you! You put your love into action and demonstrated God's love to some of the most vulnerable people in the world.
I can't wait to see how God uses you to change lives in 2018. Thank you for bringing physical help and spiritual hope to those who need it most. You have made an impact that will endure past 2017 and last for eternity.
Help for today … Hope for tomorrow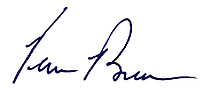 Vernon Brewer
Founder and President