January 12, 2010 is a day that will never leave my memory.
I was glued to the news as I watched images from the Haiti earthquake begin to pour in. Thousands of people were staggering through clouds of dust. Some were missing arms and legs. Others were dragging the limp bodies of loved ones away. Terror, desperation, and hopelessness were written on every single face.
I knew I had to act immediately. I knew World Help had to do something. I still remember turning to my wife, Patty, and telling her I had to go. I knew she would be worried, but I reminded her that this is why God created World Help . . . It was what I was born to do.
Our team from World Help landed in Port-au-Prince just five days after the quake. We didn't have a detailed plan yet . . . we didn't even know where we would sleep that night. We just knew that we would do whatever we could to help.
All the news reports in the world could never have prepared me for what I witnessed firsthand. It looked like an atom bomb had exploded over Port-au-Prince. Dead bodies lay in piles, scooped up by dump trucks. I couldn't take a breath without choking. Orphaned children wandered the streets half naked. Confusion and chaos were everywhere.
The devastation was unbelievable.
I saw a hospital that had caved in during the earthquake killing 400 people . . . 300 of those were children. Witnesses told me that for days they could hear their cries but could do nothing about it.
We rode through the very heart of the city as Haitians, desperate for any kind of help, swarmed our van. Their own government had literally collapsed, leaving millions to fend for themselves.
As the enormity of the crisis hit me, I was overcome with grief . . . but not despair. I knew God had brought World Help to Haiti for a reason. I knew He would show us where we could make a difference.
I'll never forget meeting a man in the street who told me confidently, "Out of the ashes, we will rebuild."
It was true. Even amid the devastation, I saw a people who were trying . . . a people who wanted to rise up and rebuild their nation. On each city block, I saw people digging with their bare hands. Some were using plastic plates to dig. They were desperate to help. They were desperate to find the bodies of their loved ones. And even today, over three years later, they are desperate to rebuild.
In the months following the earthquake, World Help was able to provide millions of dollars in life-saving humanitarian aid and emergency assistance. But unlike other organizations, we were prepared and committed to investing in long-term, sustainable solutions in Haiti that would build hope from the ground up.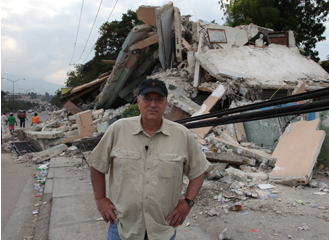 When the earthquake hit, World Help had already been working in Haiti for years. Hundreds of orphaned children were being sponsored, sustainable building projects were underway, and, thousands of Haitians in Port-au-Prince had heard the good news of the Gospel through our outreach initiatives.
We knew the people. We were aware of their challenges and were dedicated to working alongside them to create solutions. They trusted us . . . and that trust made it possible for us to meet needs more effectively when the earthquake hit.
Over the past three and a half years, we've worked with innovative leaders from all levels of influence in an effort to meet real needs in the most effective ways possible. I've strategized with government officials on several occasions to discuss how we can best serve the people of Haiti. I've even met with Haitian president Michel Martelly and first lady Sophia. When we were introduced, he graciously thanked World Help for our solidarity and life-saving work on the ground since the quake. I was even able to present him a Bible as a gift. When we parted ways, he turned and said to me, "Please pray for Haiti." I promised him that I would, and that World Help would remain faithful to our mission to help rebuild his country.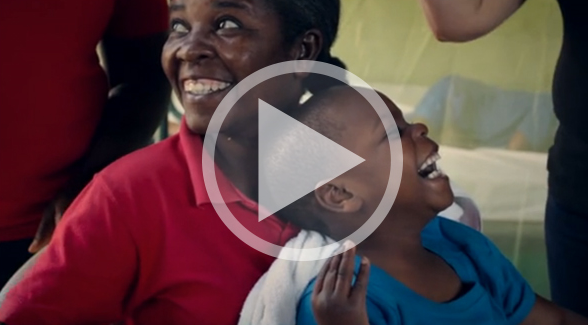 One of our strongest partnerships in Haiti was forged just days after the quake, when we found ourselves in Ouanaminthe, a tiny border town just steps away from the Dominican Republic. It was there that we met Danita Estrella-Watts, a native Floridian, who had a vision to help the orphaned and poor children of Haiti.
In the beginning, it was only herself and two other ladies in Ouanaminthe. They began feeding the hungry and needy children. But through the years, her ministry grew beyond what anyone, except Danita, could have imagined. Now, the Hope for Haiti Children's Center, is a large, guarded complex that cares for hundreds of orphaned children.
When we met her in the street outside, she explained that she and her team had taken in dozens of children orphaned by the earthquake. Some were badly injured and others were suffering from preventable ailments caused by unsafe drinking water.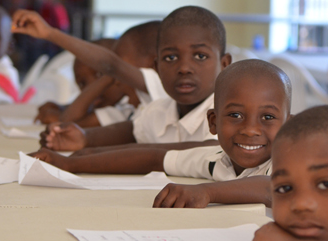 As we toured the campus, I asked her what their biggest need was at the time. She told me of her dream to build a state-of-the-art medical center on the grounds, offering help and hope to thousands of children from the surrounding community for years to come.
When it was time for us to leave, I had an unshakable sense that God had plans for us to work with Danita in the future, but I wasn't sure how.
We said our goodbyes, hopped on our motorbikes, and began weaving our way back through the streets. Not five minutes later, I knew we had to turn around.
We drove back to find Danita still standing on the side of the street, as if she knew we would come back. I told her, "God just spoke to me, and I need to obey. I'm not sure how, but we are going to help you build your medical center."
God did not disappoint. Just a few months ago, we cut the ribbon for Danita's medical center in Haiti. This first-class facility will provide professional care to countless people who have no other place to go. When their children are crying in the night, they will be able to bring them to Danita and her wonderful staff of doctors and nurses. There's no other facility like it for miles around.
Since the earthquake, we've also worked to build a massive water cistern and filtration system on Danita's campus, providing access to clean, safe drinking water for the school, the children's home, the medical center, and the surrounding community. This improvement alone will save thousands of lives every year!
Clean-water initiatives, child sponsorships, outreach projects, and this new medical center are helping the Haitian people rebuild their nation. Through these programs, the ashes left by the 2010 earthquake are giving way to pillars of strength, stability, and hope.
It's this kind of hope that can transform any tragedy—even the devastating earthquake in Haiti—into a story of redemption.
And today, I hope you'll join us in being part of that story.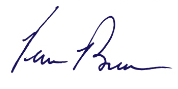 Vernon Brewer
Founder and President, World Help